3106 Bagley Av. #6, Los Angeles, CA 90034
See home page for rental amount and rental terms. Scroll down for interior photos.


To see the unit, leave your name, telephone number, and address of unit of interest on message machine at 310 398-3572, so I can have my rental agent call you to schedule a time. Please speak slowly when leaving message. Scroll down for photos
Building is located in the Palms section of Los Angeles, one half block north of National Blvd. and five blocks west of Robertson Blvd., adjacent to single-family home neighborhood of Beverlywood. A stop for the #12 Blue Line bus to UCLA is a half block walk from the building.
FEATURES: This 900 sqare foot apartment is on the second floor in a gated building adjacent to a single family home neighborhood. The building was constructed in 1965.

Bedrooms/Baths: two bedrooms, 1.5 baths

Parking: Partially covered off-street parking for one compact car in rear behind radio controlled gate. Before applying for the apartment, make sure you are willing to deal with the narrow driveway. On street parking is nearly always available within a one block walk.

Radio Controlled Vehicle Gate
Electronic Key Controlled Pedestrian Gate
Carpets: New in '2004
Stove: New in '98
Refrigerator: 17 Cu.Ft., 2-Dr., New in '98
Ceramic Kitchen Counter New in '99
Dishwasher: Yes, new in '99
Airconditioning: YES - 11,600 BTU / hour wall unit in living room, new in 2004.
Plumbing: All copper for potable water supply
Owner Paid Utilities: Hot/Cold Water & Trash,
Tenant pays Electric, Gas(heating), and optional Telephone and Cable TV
Cable TV: Available
Cable Computer Modem: Probably available, check with Comcast.
Telephone: All 3 lines prewired to all rooms
Laundry: Coin operated washer/dryer within gated area.
RENTAL TERMS
Move in costs: One month's rent + security deposit with acceptible credit and rental history.
Security Deposit: One dollar less than one month's rent.
Lease: Nominal one year lease.
Lease Form: Standard form of Apt. Assoc. of Greater LA. Occupancy: Three people maximum

APPLICATIONS: Each occupant must complete a rental application. If you will not be paying the rent from current earnings, perhaps because you are a student, please indicate the source of funds from which the rent will be paid. An application form can be found on this web site's home page.

COMMENTS: We're looking for mature individuals, possibly seniors or graduate students at UCLA. Unit #6 at 3106 Bagley is not luxury housing, but it is a clean unit in a well maintained building.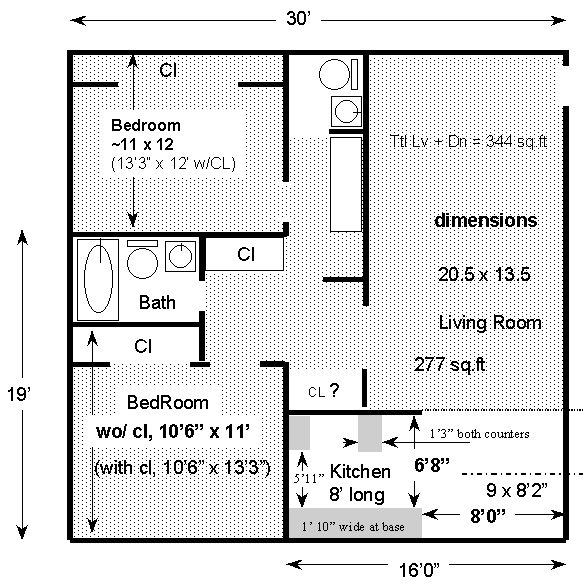 Approximate dimensions for Unit #6 at 3106 Bagley.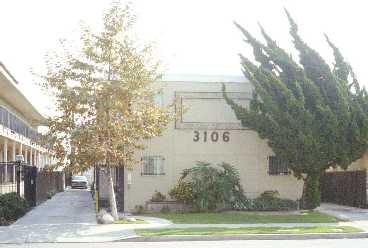 Vehicle gate is radio controlled. Pedestrian gate access is via regular and electronic key.


Courtyard planters are filled with ferns and schefflerea that stay lush and green.


Kitchen counters have recently been resurfaced with new ceramic tile.

Kitchen sink has single handle faucet.

White post to the left of the faucet is the
air-gap for the GE pot scrubber dishwasher.
(The black item shown to below and to the right of the sink. )

The kitchen flooring is deluxe inlaid vinyl tile.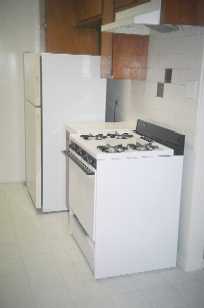 Modern stove and two door, 17 cu.ft. frost free refrigerator.

Kitchen sink has large tub to facilitate cleaning large diameter pots such as fry pans. The kitchen faucet is single handle ceramic valve.



Dressing area has track lighting
with halogen lamps. Some people
use this area for computers. To the left,
out of the field of view of the camera,
are more closets. The bedroom closets
have sliding doors.



| | |
| --- | --- |
| The appearance and utility of the half bath has been enhanced by the installation of a wall to wall mirror above the sink and toilet, and a folding mirror cabinet recessed into the opposite watt. There is track lighting above the wall-to-wall mirror. The photo of the folding mirror cabinet shown below was taken by viewing its reflection in the wall to wall mirror. The opposing mirrors faciliates viewing the back of one's head when combing hair. | |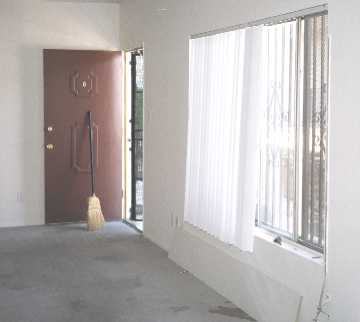 Living room window has vertical blinds. (In the photo, they had yet to be cut so as to not hit the lower edge of the window. There are two pulls, so the blinds can be either pulled to the center OR pulled to the right and the left.

The photo was taken before the carpeting was replaced. The current carpeting is "tan" in color.






Travel time to UCLA on the Super 12 bus from National and Venice Blvd. to the Ackerman Student Union terminal is stated as 25 to 33 minutes. The exact time depends on the time of day and traffic conditions. As the Bagley Avenue at National Blvd. stop is closer to UCLA, the transit time should be a few minutes less. See http://www.bigbluebus.com/busroutes/

The travel time on the regular #12 bus is stated as 36 to 42 minutes. The Super12 does not run after 6:40 PM.

There is easy freeway access from building.