3732 Westwood Blvd. #2, LA, CA 90034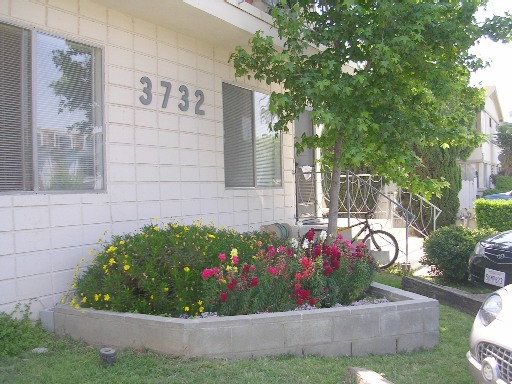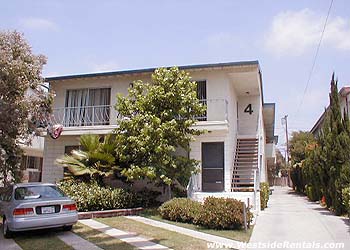 2 Bedroom, 1 1/2 Bath, Parking for 1 Car, Lower Unit
Stated rent is for two people
Location: 1/2 Blk north of Venice Blvd. in Palms.
See home page for times when apartment will be shown.
Building is located in the Palms section of Los Angeles, one half block north of Venice Blvd. and five blocks west of Overland Blvd. A stop for the #12 Blue Line bus to UCLA is a half block walk from the building. It is about four miles from UCLA campus

Scroll down for photos, floorplan and map.
FEATURES: Apartment is to be completely cleaned and repainted as needed prior to new tenant move in.

Bedrooms/baths: 2 BdRms, 1 1/2 Bths

Parking: Uncovered off-street parking for one compact car in rear of building (as shown in sketch at bottom of this web page). Renters are advised to make sure they can handle narrow driveway. On street parking can be difficult.

* Carpets: Living Room, Dining area, and hall replaced in 2004.
* ceramic counter & sink in Mstr Bth. new in 2001.
* Ceramic floor, sink and tile counters new in 2004.
* Stove: Easy Clean Burners, New in '01
* Refrigerator: 17 Cu.Ft., 2-Dr., frost-free, New in '01
* Airconditioning: wall units in each bedroom with remote control for setting temperature. .
* Plumbing: All copper for potable water supply
Owner Paid Utilities: Hot / Cold water and Trash
Tenant Paid Utilities: Electric, Gas (heat), telephone, cable (optional)

* Telephone: The apartment is wired for 2 lines with jacks for both in each bedroom and in the living room.
* Cable TV: Available. Dual band DirecTV antenna possibly available for free.
* Cable Computer Modem Access: Available
* Laundry: Currently there is a coin operated washer/dryer at rear of building but its continued operation is not guarranteed. A laundromat is right down the street on Venice Blvd.
GENERAL RENTAL TERMS
Move In: One month's rent plus security deposit
Security deposit equal to one month's rent less $1.
Occupancy: Two people maximum

APPLICATIONS: Each occupant must complete a rental application. If you will not be paying the rent from current earnings, perhaps because you are a student, please indicate the source of funds from which the rent will be paid.

COMMENTS: We're looking for mature individuals, possibly seniors or graduate students at UCLA. Unit is not luxury housing, but it is a very clean unit in a well maintained, bug free building.

Re SECURITY DEPOSITS: Security deposits are kept in a separate segregated account and the funds are not co-mingled with operating expenses. Interest is paid on security deposit at rate set by LAHD. On move out, owner typically refunds security deposit in full, other than deductions for unpaid rent, significant damage beyond normal wear and tear, and heavy duty cleaning. If apartment can be cleaned by one person, in one day, there is no deduction for cleaning. If it takes more than one day, outgoing tenants pay cost clean up.


To get a better view of floor plan detail when using Netscape browser, click on the image to get it to fill the screen.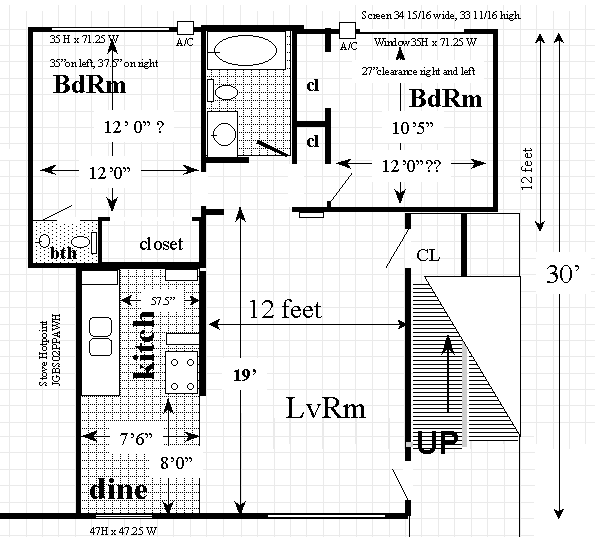 3732 Westwood Blvd.