homepage
3732 Westwood Blvd #4, LA, CA 90034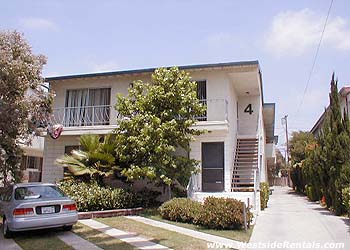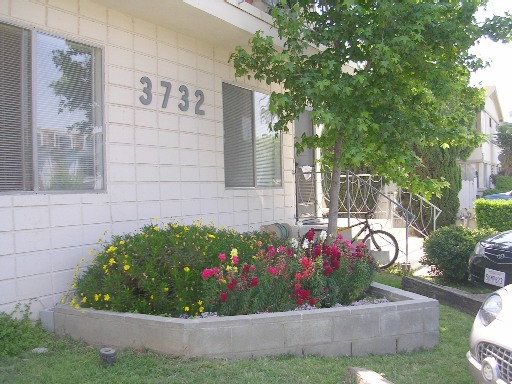 3 Bedroom, 1 3/4 Bath, Tandum Parking for 2 Cars, front, upper unit
scroll down for photos, floorplans, maps, area description.
Building is located in the Palms section of Los Angeles, one half block north of Venice Blvd. and five blocks west of Overland Blvd. A stop for the #12 Blue Line bus to UCLA is a half block walk from the building. At Overland and Palms, also within walking distance, one can get the #12 Express buss to UCLA.
FEATURES: This front, second floor, 1100 sqare foot apartment is a delightfully bright, airy, and breezy apartment. .

Bedrooms/baths: 3 BdRms, 1.75 Bths (Master bath has 3' x 5' stall shower.)

Parking: Uncovered off-street parking for two compact cars tandum at rear of building.

Carpets: New in July '00
Stove: New 1999
Refrigerator: 17 Cu.Ft., 2-Dr., frost-free
Dishwasher: No
Airconditioning: No (real breezy, rarely needed)
Plumbing: All copper for potable water supply

Telephone: The apartment is wired for 3 lines with jacks for all 3 in each bedroom and in the living room.
Cable TV and Internet: Available
Laundry: A laundromat is right down the street on Venice Blvd. Retention of in-building machines not guarranteed.
GENERAL RENTAL TERMS
Move In: One month's rent plus security deposit
Security deposit equal to one month's rent less $1.
Occupancy: 3 people maximum

APPLICATIONS: Each occupant must complete a rental application. If you will not be paying the rent from current earnings, perhaps because you are a student, please indicate the source of funds from which the rent will be paid.

COMMENTS: We're looking for mature individuals, possibly seniors or graduate students at UCLA. Unit is not luxury housing, but it is a very clean unit in a well maintained, bug free building.

Re SECURITY DEPOSITS: Security deposits are kept in a separate segregated account and the funds are not co-mingled with operating expenses. Interest is paid on security deposit at rate set by LAHD. On move out, owner typically refunds security deposit in full, other than deductions for unpaid rent, significant damage beyond normal wear and tear, and heavy duty cleaning. If apartment can be cleaned by one person, in one day, there is no deduction for cleaning. If it takes more than one day, outgoing tenants pay cost clean up.



3732 Westwood #1, LA 90034
3732 Westwood Blvd.