3732 Westwood Blvd. #7, LA, CA 90034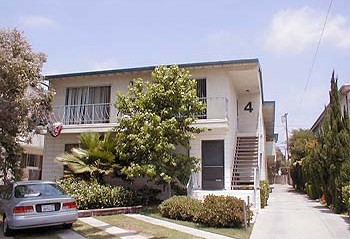 Bachelor apartment is a large room with full size bath, two closets, and full wall bookcase.
There is a small refrigerator, microwave oven and possible dining area, but no kitchen.
Location: 1/2 Blk north of Venice Blvd., Near #12 bus to UCLA.
Scroll down for photos, floor plan and map.
* Transportation - Building is located in the Palms section of Los Angeles, one half block north of Venice Blvd. and five blocks west of Overland Blvd. A stop for the #12 Blue Line bus to UCLA is a half block walk from the building. Tenants frequently bicycle the four miles to / from UCLA campus. Offstreet parking is not available except for a motorcycle; street parking usually can be found on the south side of Venice Boulevard, about a 100 yard walk to/from the building. Overnight parking frequently can be found on the north side of Venice Blvd. during the one hour before the one-hour parking limit expires at 6 PM on weekdays.

* Built in wall unit is great for holding books and CD's - see sketch and photo below - Center section can hold small television set.
* Five-bullet track lighting along main wall, and indirectly lighting minimizes need for lamps.
* Air-conditioning: A 5000 BTU/hour through the wall unit with remote control provides quiet cooling.
* Unit is within easy walk of several restaurants, gym, and super market as shown on map below. Versaille's Cuban restaurant is nereby.
* Ceramic tile shower / tub combination with sliding glass doors
* Stove: none, but there is a small microwave oven.
* Refrigerator: 3 Cu.Ft.,
* Plumbing: All copper for potable water supply
* Tenant Paid Utilities (optional): telephone, cable TV
* Owner Paid Utilities: Electric (within limits), Gas, Hot & Cold water and Trash
* Laundry: Continued availability of coin-op. washer/dryer in building is not guaranteed. A laundromat is down the street on Venice Blvd..
* Cable TV: Available
* Shared DSL wireless internet access
* Unit is not luxury housing, but it is a very clean unit in a well maintained, bug free building.

GENERAL RENTAL TERMS
Move In: One month's rent plus security deposit roughly equal to one month's rent. Rent may be 10% higher for second person.


APPLICATIONS: Each occupant must complete a rental application. If you will not be paying the rent from current earnings, perhaps because you are a student, please indicate the source of funds from which the rent will be paid.
.
Re SECURITY DEPOSITS: Security deposits are kept in a separate segregated account and the funds are not commingled with operating expenses. Interest is paid on security deposit at rate set by LAHD. On move out, owner typically refunds security deposit in full, other than deductions for unpaid rent, significant damage beyond normal wear and tear, and heavy duty cleaning. If apartment can be cleaned by one person, in one day, there is no deduction for cleaning. If it takes more than one day, outgoing tenants pay cost clean up.

| | |
| --- | --- |
| | Bookcase has underside fluorescent indirect lighting. |
| | |




Air Conditioner is located below the right-
hand side of the window. It may not be
shown in the photograph to the left.

Track lighting is controlled by switch on
the wall next to the regular closet.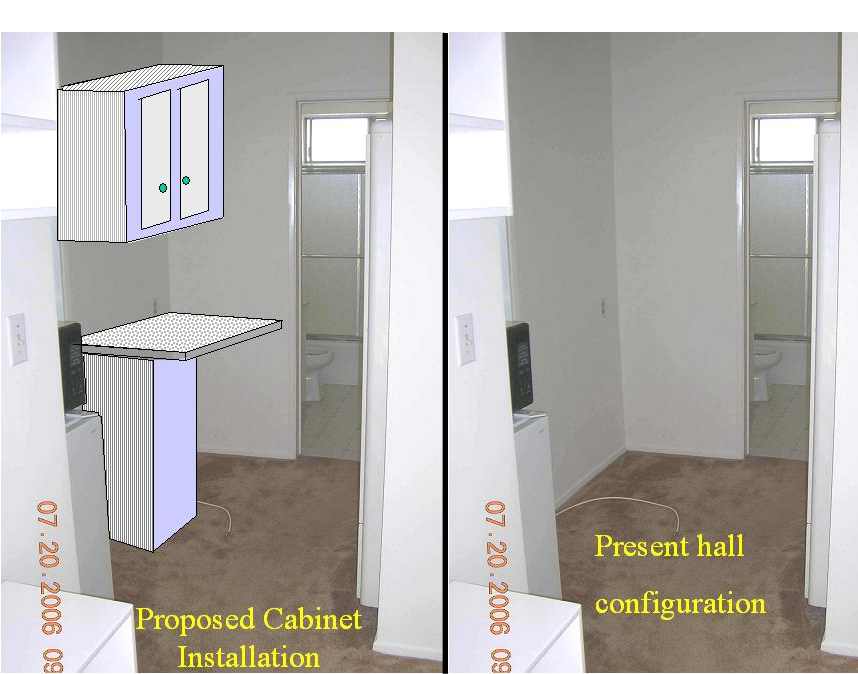 As shown above, cabinets and a surface suitable for use as desk or eating area will be installed if requested.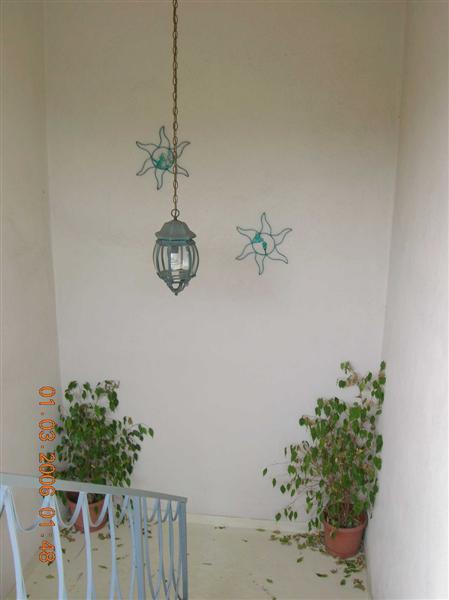 Stairwell leading to Unit #7.