3106 Bagley Av. #3, Los Angeles, CA 90034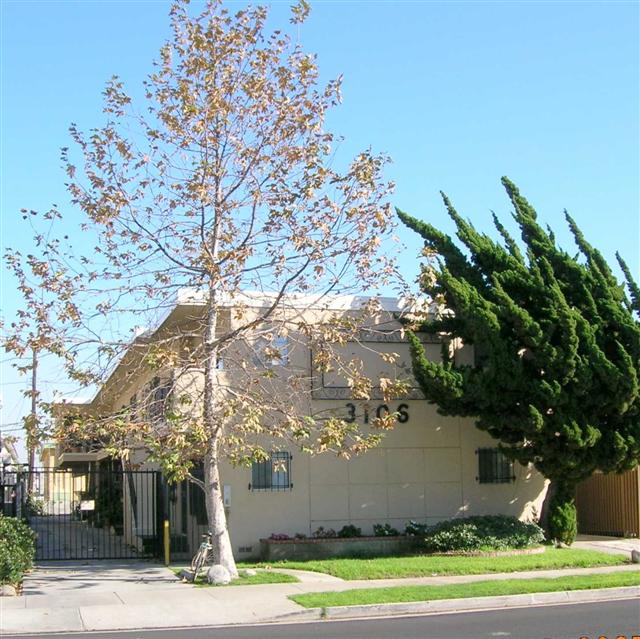 Two bedroom, 1.5 bath, one year lease, see home page for rent & availability.
To see the unit, leave your name, telephone number, and address of unit of interest on message machine at 310 398-3572, so I can have my rental agent call you to schedule a time. Please speak slowly when leaving message. Scroll down for photos, floor plan, and location map.
Building is located in the Palms section of Los Angeles, one half block north of National Blvd. and five blocks west of Robertson Blvd., adjacent to single-family home neighborhood of Beverlywood. A stop for the #12 Blue Line bus to UCLA is a half block walk from the building.
FEATURES: Photographs of interior of unit requires ~30 sec to download on 56K TelCoLine modem..

Unit Description: two bedrooms, 1.5 baths, bottom floor towards the front of building
Location: Palms section of Los Angeles with easy freeway access to USC and easy bus access to UCLA.
Parking: Partially covered off-street parking for one compact car (option for tandem two).
Neighborhood: Within steps of lovely Beverlywood single-family-home area.
Radio Controlled Vehicle Gate
Electronic Key Controlled Pedestrian Gate
Radio Controlled Vehicle Gate
Electronic Key Controlled Pedestrian Gate
Carpets: Brand New in Nov '02
Stove: New in '98
Refrigerator: 17 Cu.Ft., 2-Dr., Brand New
Ceramic Kitchen Counter: Brand New in Nov '02
Dishwasher: Brand New in Nov. '02
Airconditioning: To be installed.
Plumbing: All copper for potable water supply
Owner Paid Utilities: Hot/Cold Water & Trash,
Tenant pays Electric, Gas(heating), and optional Telephone and Cable TV
Cable TV: Available
Cable Computer Modem: Probably available
Telephone: All 2 lines prewired to all rooms
Laundry: Coin operated washer/dryer within gated area.
RENTAL TERMS
Move in costs: One month's rent plus security deposit.
Security Deposit: One dollar less than one month's rent with good credit rating.
Lease: Nominal one year lease.
Lease Form: Standard form of Apt. Assoc. of Greater LA.
Occupancy: Quoted rent is for up to three people. Rent will be 10% more for each additional person beyond three.

APPLICATIONS: Each occupant must complete a rental application. If you will not be paying the rent from current earnings, perhaps because you are a student, please indicate the source of funds from which the rent will be paid. Applications can be found on the counter in the apartment or they may be download from home page.

COMMENTS: We're looking for mature individuals, possibly seniors or graduate students at UCLA. 3106 Bagley is not luxury housing, but apartment is a clean unit in a well maintained bug-free building.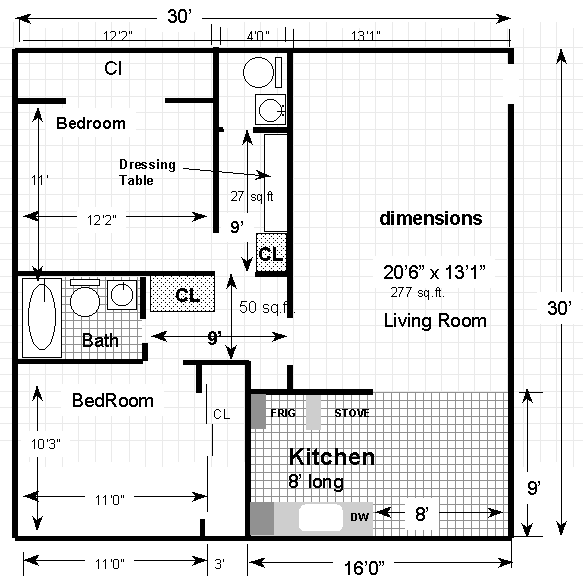 | | |
| --- | --- |
| Vehicle gate is radio controlled. Pedestrian gate access is via regular and electronic key | Court yard planters are filled with green ferns. |
Scroll Down for Interior Views including:

* Kitchen
* Dressing Area

View looking up driveway toward that street.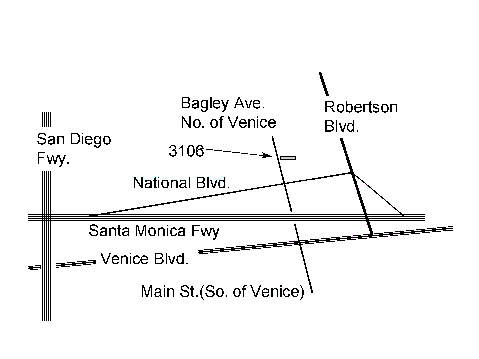 There is easy freeway access
from building to USC.

Santa Monica bus route #12 to UCLA has a stop on National Blvd., 1/2 block walk from building.

Building is located in the Palms section of Los Angeles, just south of the Beverlywood single-family-home residential area.